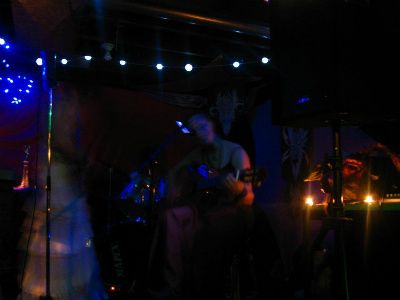 After much hard work, from all involved, i'm happy to report that Saturday's ceremony, here at Goat's Head Manor, was a success. A lot of people showed up, good weird music was made and listened to, allegiances were formed. Normally, my birthday season, and February in general, kind of sucks; its nice to herald in my personal new year with artistic, vivid projects and people. Running around town, putting up flyers, having rehearsals, making playlists; it just feels right, and i feel like i am finding my niche here in Portland. The basement looked rad as all get-out, the walls adorned with red and black, courtesy of Guild Works, and even more mojo was contributed by Arun Once Was Zygoat, owner of the Aruniverse, purveyor of fine tapestries, and he was also kind enough to bring Yule Bok, (Phabomet during the non-Yule season), to bring even more Goat Head-ed energy to our house.
My friend Jake and i called the corners, playing under the name Lore Acts. We have a mutual fascination with the inky black, the desolate, the holy and the unholy; the sacred and profane. We started hanging out and working together, back in the fall, using noise music as a bonding ritual, as a way to peer into each other's soul, and at least found the landscapes adjacent, if not exactly the same dark continent. Let's call them sympathetic eco-systems; we bring an odd and enjoyable mutation into each other's realms. Getting to know one another, making music together, has led into a real and much-appreciated relationship, a dark support network, a comfort when surrounded by daywalkers.
During this set, we opened with a dirty, sludgy cover of the gun club's 'Sex Beat', in derision and scorn for those that are slave to their desires, to their flesh. Our version replaced acerbic garage punk scorn of the original with something colder, deader, getting slower and more pummeling with each successive go 'round. Leaden, deaden, i've never played metal in front of a crowd, before, so it was nice to unleash my primal scream. From there, we played some middle-eastern trance sludge, where i called down the spirits, transforming the room into a lysergic subterranean temple. The air was thick as molasses, in the corner, where all the various wizards and witches hunkered down, and made their musickal magick. After the veil was ripped away, from materialized twenty minutes or so of alien noise sculpture, jake playing 'noise boards' of various treated insect noises and 80s horror synth, and myself pulling some power noise moves, with supportive atmospherics: cicadas, wind, distant drums. Our forest is uncharted, menacing, and full of possibilities. In Lore Acts' camp, you can be wild and free.
My friend Jeffrey played under the name 3 Moons, served up a blend of astral blues and dervish clarinet. The times i have seen him play solo, previously, he plays acoustic guitar through a battery of lo-fi pedals, and sings through a tinny, jc penny microphone. Like peeping through time, having a campfire sing-along with the time travellers you find there. Not quite here, not quite there; its somewhere in-between. I wish i could have listened more thoroughly, but i was off transforming into a leopard angel.
Meta-Pinnacle played next, which mostly comprises of my friend Lily and i, occasionally joined by others. We're pretty new-ish, still exploring our sonic terrain, our sympathetic and dissonant aesthetics. Still figuring out how to conjure inky, tendrilly figures from the void. I feel like this performance was like the culmination of meta-pinnacle 2.0. We played once before, a living room set, also here at Goat's Head. We were mostly acoustic, at that time, reflecting endless coffee-infused mornings sitting on the porch, playing guitar and blinking sleepily. We are starting to explore technology more, investigating our options. We are becoming more solid, more competent musicians, and this time around, we just went for it. Raw and ragged and real, not two fucks were given. We gave it our best, we are kind of ragged, homespun, honest people. We are precisely messy, and cheaply elegant. We played most of the songs that we know, so far, three originals by Lily, a couple of covers (Sia, Mazzy Star, Sneaker Pimps) and a quicksilver guitar noise drone wash to finish, something that i've been kicking around for a month or so, which was unexpected and beautiful, a wonderful encore.
Last up, The Ghost Ease; another band i've seen several times around Portland. In the previous incarnations, The Ghost Ease was just jem marie, coaxing a symphony of disembodies loops to hang in thin air and play nice together. Imagine my surprise when The Ghost Ease this evening, turned out to be spectral garage afrobeat band, instead. They had a horn section, sax and i think trumpet, plus guitar and drums, making an unbelievably rich, dense sound, that woke everybody up, made everybody move.
Unfortunately, Cult of Zir didn't get to stick around long enough to play, so i encourage to keep yr eyes out for upcoming performances, and keep weird music in Portland thriving.
Its so unbelievably satisfying to provide opportunities for this kind of thing to happen, a new mutant surrealistic mixture of art and magick. The sacred, and the profane, things holy and tender, spilling over on to unsuspecting party goers, who are just out looking for a good time. Too often, hermetics are too hermetic, too insular, too shut off, chanting in some lofty ivory tower, or up in the clouds. So unblemished, and pure. I have not found this too often, in my lifetime. Things tend to be muddy and messy and real. So many people just use the underground, and things like house shows, as a trampoline, to spring their way to 'legitimacy', and the revolution loses its fangs and claws. This kind of laid-back atmosphere, funky and homespun, makes all sorts of adventurous art possible. It doesn't have to be good, so it often is.
I'm so proud to have been a part of this. I feel like my life has commenced, is rolling along rails rubbed with crisco and vaseline. Thanks so much, for everybody's help, to all my Goat's Head family, who have made all my dreams manifesting possible. Thanks to Portland, for having such a vibrant scene. And for those who have been here for a while, look around! There's a lot of interesting things happening around you, and often times for free. Don't be apathetic.