Blind Lovejoy are Noah Johanson and Cayla Davis, from Portland, Or. They met freshman year of high-school, bonded over an almost creepy adulation of Janet Weiss, and a mutual disdain for Built To Spill's bloated prog pyrotechnics (although they can sound like Built To Spill, at times)
They were able to achieve the alien mind-meld possible to the very young; in essence growing up together. There is a simpatico, a wordless understanding, that is belied by their very different personas.
Noah is dreamy, misty, sweet, funny;
Cayla is spiky, sharp, determined, meticulous. Their sound does not water down either of these aspects, but rather is an alchemical aberration of the two, something wholly OTHER, that exists in the air between them. It is psychic, empathetic, and fucking hilarious.
Blind Lovejoy are part of the extended Goat's Head family; they've played shows over here, and shared bills with other friends' bands. They all went to college together, met during that awkward transitional freshman year of college phase, and developed a phase 2 mind meld, meant for young adults and those possibly deranged from mind-altering chemicals, which is the cosmic soup that i landed in, when i met all these folks.
I've had the opportunity to work with Blind Lovejoy, without hearing much of their music; some of my earliest attempts at recording a band. I'm extremely proud of the way its all turning out, we're almost done mixing now, and during the process of recording them, and getting to know them, i found that essence rare: two musicians with good taste and excellent skills, that know what they want to hear, and how to achieve it. To watch these two manipulate tone and mood, and make their aesthetic work together, has been revelatory.
Their music, that i have heard so far, mixes the abrasive with the smooth and sweet; rough, groddy guitars, reminiscent of early Polly Jean Harvey, spliced with a cutting, serrated stacatto skank. Their music moves. Noah and Caylah both play drums, as well, so their music is rhythmically very tight and focused, which can make or break a band. All in all, their music gives a sense of adventure, adrenaline; a night on the town. It is funny; it is sad. It is apologetically romantic. It will conjure landscapes in yr mind, both damp and dry.
Mixing this record, daydreaming with my friend Lily who is making the artwork, bouncing mixes back and forth, getting it all perfect. Getting everybody to understand one another, on the same page, becoming friends, has been one of the most rewarding experiences i've had so far, and i feel like the art comes out fully formed, effortless, from that understanding.
Blind Lovejoy is playing this saturday, 2.18.12, at
Backspace
, with another friend's band, Caroline (whom i discussed over
here
), which i'm tremendously stoked on, as i think Caroline and Blind Lovejoy will complement each other, and gain each some new fans. The show is to support
Music in the Schools
, a non-profit organization to raise funds for Portland Public Schools music progams. All shows are all-ages, a rare and precious commodity in PDX, and worth yr support for that reason alone.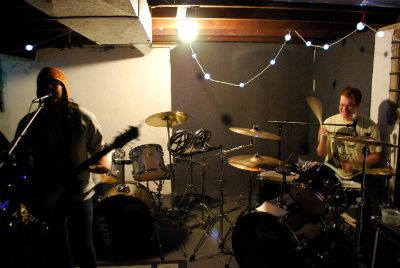 ...and just in case you can't make it out to Backspace, or if you don't live in the Northwest, Blind Lovejoy will be playing live, on the radio, on Seattle University's KSUB, on 2.24.12, which will be streamable via the internet. More info: here