I was running characteristically late; pounding pavement down Burnside, chucking over every aspect and nuance of society, of creativity, what to say and what not to say to Arrington De Dionyso. I had met him a few times over the summer, when i was staying in Olympia, knew a few of the same people, saw Malaikat Dan Singa play a few times, most suitably impressed with his no-wave trance mongolian transgressive rock. There was a moment at Helsing Junction Sleepover, when my head was full of cobwebs and mildew, and Arrington's mixture of chant, bass clarinet, spiky repetitive bass grooves and dancehall rhythms saved my soul.
I arrived early to interview him (more on that later), so was there pretty early, kicking around
Ella Street
's red interior with my notebook and pen; on assignment. The interview went surprisingly well, seeing as how i had not prepared AT ALL, other than mulling about in my head what i, and what other people, might like to know about this person. We talked about Indonesia, the void, trance, daniel higgs, the physical properties of sounds. About talking with spirits. I was struck, as i am often struck, by the ambiance of Ella Street, its like a Seance Parlor over there, the walls of time just seem thin. Old jazz on the stereo, antiqued hanging lamps. I fell into a lull, lapping up the light. Shooting a game of pool. A very receptive mood for Arrington, and what he had to show me.
A pleasant surprise of the evening was my friend Markley Morrison, who usually plays in
Lake
, but this evening was playing with Malaikat, as well as performing solo under the name
Skrill Meadow
. Mark's a good ol' boy from Southern California, he's from the same town as Captain Beefheart; Lancaster, Ca. They have a lot of fluoride in the water. He knows a lot of country songs. He's got a killer soul vinyl collection. Skrill Meadow played with a funky old keyboard, a set of roto-toms, a ghetto blaster, and two microphones; totally nailing a set of '80s plastic funk, echo-laden Motown b-sides, a New Romantic version of 'Nobody Wants To Play Rhythm Guitar Behind Jesus'. Lake did a tour with
R. Stevie Moore
this last fall, and the connection of their eccentric pop genius is evident, similar also to Ariel Pink. Perfect pop songs, 20 years too late, recorded on a ghetto blaster. But Mark really means it, he goes for it, so many intricacies and nuances and flair. Sweet drum machine fills, a roto-tom solo. A consummate performer.
I went for a walk, found some fruit on the ground, listened to the next band, Free Weed, through the wall, smoking cigarettes and writing in my notebook. Fell into a heavy make-out session in the back of a car, and was pulled away from the next two bands, got back in time for
Malaikat Dan Singa
. My endorphins were revved, and self-consciousness forsaken, Ella St. was particularly primal this evening, sloughing off its usual opium-den languor to get tropical and sweaty. I felt like a panther as my body began to sway and pulse to Nehemiah St. Danger's slinky bass, Arrington's jagged shards of guitar, like the angular thoughts in my brain, high and bright over the meat carnage of sinew, tendon, and bone. Arrington talked of igniting a spark, transmitting a message, taking people on a voyage, and Ella Street Social Club was the conduit for the current, last evening. It went off; 20 bodies slammed into a small dance floor, moving with abandon. Complete (forgive the pun) Dionysian abandon. They played a surprisingly short set, or maybe i just missed a bit of it, but it mainly consisted of trance-y rock grooves, almost kosmische in their repetition; two guitars, bass, drums, synth, voice. Arrington played his bass clarinet, but not a ton, focusing more on his Mongolian James Brown routine. Charismatic as always, total presence; this is like the fourth or fifth time i've seen them live, i'm just mesmerized every time. Quickly becoming a favourite, and a genuine and decent guy, to boot. Last night was the first night of a ten day tour down the west coast, so if you should get this in time, do. not. sleep. on. this. This tour's gonna rock socks! If you live in Portland, and didn't get to check out last night's show, you have another chance, next weekend, 4.8.12, with like minded cosmonauts,
Million Brazillions
.
Arrington gave me some links to some cool Indonesian music to check out. Check back on Chain Dlk over the next couple of days, to scope the full interview.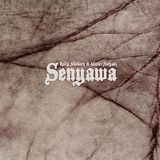 Wukir & Rully - Senyawa
West Coast Tour Dates:
Saturday, March 31st, ARCATA, California- TBA! Probably at HSU at 8pm
in front of the Ceramics Lab? Maybe? Or we'll crash a house party
Sunday, April 1st- BERKELEY= EARLLLLY ART SHOW AND PERFORMANCE=
at The Tarot Woman 3140 Martin Luther King Jr Way Berkeley, CA 94703
MONDAY April 2nd- San Francisco- at THE KNOCKOUT!
Thursday, April 5th SAN DIEGO- the Tin Can Alehouse!
Friday, April 6th LOS ANGELES- The Smell w/Amps For Christ, Let's
Saturday, April 7th SACRAMENTO- Bows and Arrows Collective- w/San
Sunday, April 8th PORTLAND- at THE TUBE! w/Million Brazilians