Madrigals
are a form of Renaissance music, small ensembles of 3 to 8 voices, often singing adaptations of popular poems. I became familiar with the style first through the old, great goth band Miranda Sex Garden, and i deepened my knowledge and understanding with my surreal anglophiliac tendencies.
This evening's performance, at the lovely Lincoln Recital Hall, in the basement of the luxurious Lincoln Performance building, all gilded Corinthian columns and polished wood. One thing you can say for classical performances, even if you don't care much for the music, is you can usually count on the acoustics. The Lincoln Recital Hall did not disappoint in this regard - an intimate room that seats about 100. Most of the attendees were either performers or their families, making it a casual, non-imposing atmosphere, and anybody who knows anything knows that this is the setting in which inspired art can commence, in which song may take flight.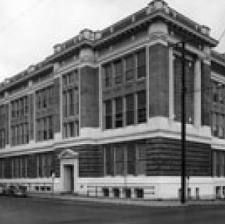 The song was fully mid-wing as my friend and i entered the room; the Madrigal Choir began with a rare duo of sacred choral pieces, Ave Verum Corpus and O Bone Jesus that sounded like Arvo Part and had my whole body in a cold sweat and shivers, before launching into the more familiar street numbers, odes to love and tobacco, a sonnet by Shakespeare given voice. There were songs for only the women, and one just for the men; the line-up switched constantly which shook things up and kept it invigorating, and the variety and combination of voices conjured filmy orchestras in my mind's eye, silken bassoons and golden flutes, automatic harp and a fox hunt, all played out on a dusty celluloid stage, beneath the ghost light.
The University Choir were up next, a full 80 voices! Extraordinary, the fullness and richness, and captured and set loose in such a warm, inviting room. The University Choir is open to full-time music students and hobbyists alike, they have a severe work ethic while practicing but clearly enjoy themselves. The melting-pot of styles and motivations, not to mention the genders and age differences of the choir members, made for such a richly textured music. Some were clearly bored and looking for that easy credit, but some were burning with the holy spirit! They committed several of what i usually consider mortal musical sins.
The Choral Rendition of a Pop Tune (

And So It Goes

, Billy Joel)

Predominantly white choir doing ethnic music (Balia di Sehu, Aruba)
Parading through the aisles, to exit the auditorium
The Billy Joel number was actually my second favorite of the evening, behind the holy choral music mentioned earlier. It tells a story of a person opening up the secret room of their heart, gifting the treasure of their heart to someone, to break as they see fit. The soloist Ariel Young clearly knew what she was talking about, singing in a smooth silky alto: pure, emotional, sincere - a rare gift when interpreting someone else's song. It left me raw and misty, dreading the coming Spring thaw and all its resultant loneliness, but the joy and purity of the evening's music would not allow cynicism to flourish in my chest, i left full of hope and possibility.
The Madrigal & University Choir's whetted my appetite for classical music, and reminded me of how much rich culture there is to be had out there, for those with discerning Eustachian canals.