The year was 1993, and i was 13 years old. I was flailing about for an identity, first latching onto what was shoved down my throat via corporate radio, and then delving into the depths of obscurity. Alternative rock was at its heyday, and i liked R.E.M.,Nirvana, and the Smashing Pumpkins, and due to a fluke of the time, had heard the unlikely strains of Dead Can Dance's 'The Ubiquitous Mr. Lovegrove,' suggesting an exotic, magickal, and mysterious world which really piqued my curiosity.
Around this time, my sister was dating a guy from Munising, MI, named Joe. He would drive the 7 hours to hang out, and sometimes my sister would leave him at home with nothing to do. He was the first music obsessive i met, spending all his free time and dollars at record stores, pulling out arcane gems that no one has ever heard, before or since. An avalanche of cassettes would spill out of his back-seat when you opened the door. He didn't differentiate sounds or label himself; it was all gold to him.
When he was around, my Mom would let me stay home from school to hang out, probably to encourage me to have a male role-model, partly for him to have something to do. Those days were so MAGNIFICENT, driving around in his car, listening to the coolest shit, going to the tinytinytiny record store, where the owner Jim would give us free posters and flats, cuz we actually gave a shit. I was getting curious and asking questions, wanting to delve further into stuff i was hearing on the radio, and also cuz i looked up to him, i would ask him what music to listen to. I remember him handing me a stack of 20 CDs, with bands like the Pixies, Janes Addiction, Tool, Red Hot Chili Peppers, etc. Up to this point, i was a good little christian boy, and my mind was good and permanently blown.
During these long musical conversations, he pulled out a cassette by a woman named Danielle Dax, Jesus Egg That Wept, and it was the first time i heard the word Goth used in a sentence. I took it to mean dark and creepy, and that i was into, always have been. With the grinding, carnival-esque opening strains of 'The Evil Honky Stomp,' my hair stood up on end, every nerve standing on red alert! What the fuck is this shit?!? They don't play this on the radio... "Up in the Big House/They're Branding Niggers/Destroy a Life/To give 'em Gold." This was straight up evil, relishing in it. "They sing Hallelujah, praise to the lord, amen!" The low-down mantra chant of Pariah, "Walking sick sick/they walk and they crawl", was stuck in my head for probably 8 years, with its malodorous refrain. This record was the tip of the iceberg, with me getting into Dead Can Dance, The Cranes, and the Cure around the same time, hurtling me into the nether-world of obsession; dusty magazine racks, over-priced imports, eyes burning and raw from squinting at web-sites in Russian. This has become my all-consuming passion, my reason for living, and it all started on those afternoons skipping school. I have since lost Mr. Joe Hornbeck, due to being a drunken fuck-up for so long, if anyone knows him, please send him this way!
After the initial exposure, i hunted high and low for this album for probably 4 years, i mean almost every day. I found a record in Chicago at one point, and i bought it, without even owning a record player. I finally found a CD and taped it, had it in my Chrysler New Yorker during those infamous road-trips. Angela and i had a particularly memorable listening session driving through the depths of Mississippi, on our way to New Orleans, listening to this. I am pleased to report that it has really held up under time and scrutiny, unlike many of my gothic fetishes who were BADBADBAD, with their fake pretension and moodiness. Danielle Dax has a sardonic psychedelia, as evinced in her cover of the Beatles, 'Tomorrow Never Knows'. This shit is dark and trippy and weird and cool and controversial, and next to nobody knows about her. I have had these albums 3 to 4 times, and i went looking again recently, and nobody had them on their blogs, so i am doing the deed, hooking y'all up and i highly recommend that you listen and take note!
Great music that was highly influential on my life, that is horribly obscure, unknown and unloved. What more do you need? Go for it!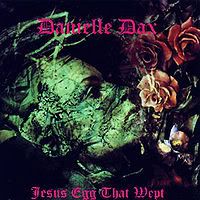 +-+-+-+-
Jesus Egg The Wept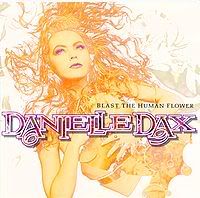 +-+-+-+-
Blast The Human Flower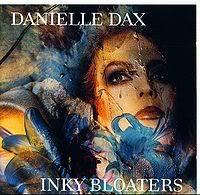 +-+-+-
Inky Bloaters
ps... if anyone has Pop Eyes or Dark Adapted Eye, and wanted to hook a brother up, it would be greatly appreciated!