Arrington's such a badass. He's been bringing the tuvan fire jazz funk ritual reverie since 1995, when he started Old Time Relijun, moving to form the ritual troup malikat dan singa, which i always describe to people as, 'mongolian shamanism fronting a no wave band playing african music.' Now, this descriptor may not mean much to some, but to some of us it goes off like a badly grounded neon sign.
I've had the pleasure of interacting a bit with Arrington, over the summer, due to some mutual acquaintances, and found him to be very real, very accessible, very knowledgeable and passionate about his craft. At one point, i saw him do his thing at Helsing Junction Sleepover, and i had a head full of cobwebs and demons, and he strutted and gyrated and carressed like James Brown, singing lyrics in Indonesian in a throat singing style. I was lost in the movement, lost in the sweat, lost in the throng. He calls it body music. I had no cobwebs or shadows left, when he had finished.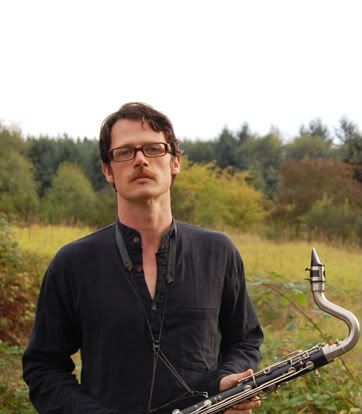 Arrington just got back from a tour of Indonesia, where he put together a scratch version of Malikat Dan Singa with local musicians, for a series of intense fire jazz gamelan panic attacks. Brian Jones would have been drooling, losing his shit! There are moments, when the musicians are hollering, clapping their hands; they are clearly feeling the spirit. He mostly plays his bass clarinet, over a backing gamelan, all cyclical hypnotic gongs and cymbals, tuned brass, building in freneticism, really getting in there, rising in pitch. It sounds like Albert Ayler jamming in a village square, against a curtain of chirping crickets.
Here's what he has to say about the project:

Hello friend! I am back from a month and a half in Java, Bali and
Lombok. I performed about ten concerts with a new version of Malaikat
dan Singa featuring local musicians, which was an amazing experience,
but perhaps even more incredible I was able to IMPROVISE with some
TRADITIONAL musicians. I've posted two "albums" to my bandcamp site
along with some notes.
"Lombok Island Improvisations" features Gombloh playing the preret, a
double reed instrument used in Sasak/Hindu temple ceremonies, and also
my first experience recording with a Sasak Village Gamelan.
"Trance Music of East Java" features some very raw and sweaty
recordings from two different concerts and a studio session with
"Jaran Kepang" groups, also known as "Kuda Lumping". This is an
incredibly rich and diverse tradition of TRANCE MUSIC involving wild
masks, dancers, and sometimes eye-popping spectacles such as the
eating of glass or live chickens, etc (I didn't actually see any of
that this time but there are plenty of youtube videos showing such
feats).
It goes without saying I feel incredibly honored and fortunate to
have been able to perform with these groups. These recordings
represent an attempt at true cross cultural collaboration, this is not
"objective" ethnomusicology, nor is it exactly "free" improvisation in
the usual sense of the term. Let's say it's the beginnings of what I
intend to be an ongoing engagement and experimentation with
re-imagining HUMAN music in the 21st Century.
All musicians were PAID for performances and recordings, thanks to my
kickstarter fund. I'm pretty damn close to broke upon my return, SO-
PLEASE- Listen, download, share, enjoy the music as much as you like,
consider making a donation of any size to help me continue doing work
like this through the bandcamp site, I'd love to hear any feedback or
questions!
thank you! Arrington de Dionyso
TWO NEW ALBUMS
http://arrington.bandcamp.com/album/lombok-island-improvisations
http://arrington.bandcamp.com/album/trance-music-of-east-java
Listening to these recordings reminds me of going to school in Chicago, first discovering Balinese music, reading about gamelan; trancing out in a corner of the library. I was becoming interested in how all these noisy/experimental electronic sounds i had been listening to were being influenced by traditional music; ethnographical recordings - deep dark mysterious corners of the world, murky field recordings that exploded my mind with visions; modern classical; electro-acoustic; improv free-jazz. I began to connect with so many different strains of humanity: African, Arabic, Chinese, Irish, Moroccan. I gained empathy. I wanted to know what it was like behind their eyesockets. I was falling, further and faster, down the rabbit-hole. I was (and remain) a wide-eyed musical zealot, drooling with appreciation and admiration. An initiate. A devotee.
All these years later, i remain in gratitude and humility, that so many amazing sounds pass through my ear canals, that my imagination is so richly fed.
Arrington has generously shared these records with everybody, for as much or as little as you care to share. This music will take you higher!
If you happen to be in the greater Portland vicinity, tomorrow, 11.21, Malikat dan Singa is opening for tune-yards at the Wonder Ballroom
. Come see for yrself.