Writing from the road, from my friend's apartment in South Chicago. On my semi-annual musical pilgrimage, this time for the Pitchfork festival. Saw 2 out of 3 days, with a lot of incredible music, that i will talk more about in upcoming posts.
Been a most interesting journey so far, and not what i'd expected, as usual. This time, not so much about 'wild times' or 'crazy fun', rather introspective, sort of mellow. Taking stock, making sure all vital organs are intact, located where they should be. Seeing old friends and family, and just generally spreading the love.
I had my headphones on for pretty much the entire 30 hour Greyhound ride, so there were a lot of different sounds in that time span, but overall the winner for the journey was Mt. Eerie, Phil Elvrum's post-Microphones project. Drifting along, in the middle of the night, driving through Kansas' inky blackness. Overhead light wouldn't work, spent the night swimming in sound. I played one of his records, stood my hair up on end, and immediately afterwards went, 'ooh, i wanna hear some more.' In total, i listened to 7 Mt. Eerie albums on my journey. I post one, almost arbitrarily, although i think this is the first Mt. Eerie album i heard, and it is very good. He has an extensive back catalog, and well worth delving into, especially if you like Bonnie Prince Billy or other dark melancholic folk music.
No Flashlight
On Friday, i saw Tortoise, Yo La Tengo, Jesus Lizard, and Built to Spill; thoroughly appreciated all of them, although i wasn't too impressed by the Jesus Lizard. This was the 4th time i've seen Tortoise and Built to Spill both, and i have to say that both of 'em sounded better than i've ever heard 'em, in my opinion. Tight and focused.
Flashed back in a serious way listening to Tortoise, which was one of the first bands to interest me in indie rock, post rock (of the late 90s jazzy, chicago variety), electric era miles, dub, and krautrock. Basically, contained the DNA of a whole galaxy of underground sounds that would obsess and fascinate me, throughout my 20s. Angela and i discovered 'TNT' at a Border's listening station, and it gathered dust for a while. One night, we played it on a whim, while dosing. Let it play, and left the room, went on one of those late-night cosmic walks that i did so often in my adolescent years. When we came back in, Tortoise's metronomic liquid funk was climbing the walls like spiders. We forgot that we had left it playing, and it left a deep impression.
Their mathematical, minimal precision has stayed with me over the years, and i've listened to TNT so many times i couldn't possibly count. It still holds up, and seeing them on Friday has irradiated the love i have for them. I am still infatuated by their hodge-podge of influences, and i am even more impressed with the quality of their musicianship. They have a new album, which just came out i think, that sees them breaking out of a several year static groove and coming steamin' out of the gate, and i am terribly excited to see what this new phase may bring. Get to know their music, and definitely go see them, if they come through yr town.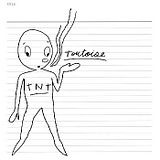 TNT